«YichTrains» is a virtual company which operates in the Halcyon virtual worlds system.
We did not totally recovered from The closing of Inworldz yet. However we are having good hopes that Sovaria Estates will at last bring a stable solution, and a good quality one, to all the users of virtual worlds, by suppressing the weak link: the unique all powerful owner. Also, the Mundos Market project should allow to distribute our creations to all Halcyon virtual wolds.
Waiting for it, I am still working on my trains. Unfortunately the lower quality of Open Sims will not allow it to receive my trains, neither my robotic scripts, as it has been my project first.
Available
Nothing is really for sale for now, as I am waiting for the Mundo Market. Are completed (or nearby):
- A large choice of tracks and functional switches, in several styles and many gauges.
- A narrow gauge «Cucaracha« steam locomotives
- A narrow gauge «Shantipur» diesel railcar
- A metric gauge «Urbanelf» electric railcar
There are no carriages yet, due to a camera bug making them jitter
Visit the YichTrains platform!
In development
-A steam locomotive «Mahakali« for wide gauge (Indian)
-An «elven» electric railcar «Elektra» for wide gauge (Indian)
-A system of turn table
The scripts previously annouced here were made, in the GortaX Robots shop.
Photos and videos
September 2022: Urbanelf with the Sovaria Estates livery. I am also working to bring back the Cucaracha narrow gauge steam loc and the Shantipur narrow gauge diesel railcar (on the other tracks).
Video: the Relay For Life scene! This was the last days in Inworldz.
Video: Fall Fest 2017 in train!
(sorry, contains Halloween, I am not responsible)
On the site of the photographer Rig Torok: These photos from Inworldz show the YichTrains sim in the Fall Fest 2017. Also note the Gortax robot.
Thanks Rig for hosting them.
A video by designing words about the Relay For Life, showing the same train (in several places).
Inworldz Winter Gala 2014, on the inworldz login
Video: Inworldz Winter Gala 2014
Inworldz Winter Gala 2014
Video: All the wonderful stuff in the Inworldz Winter Gala 2014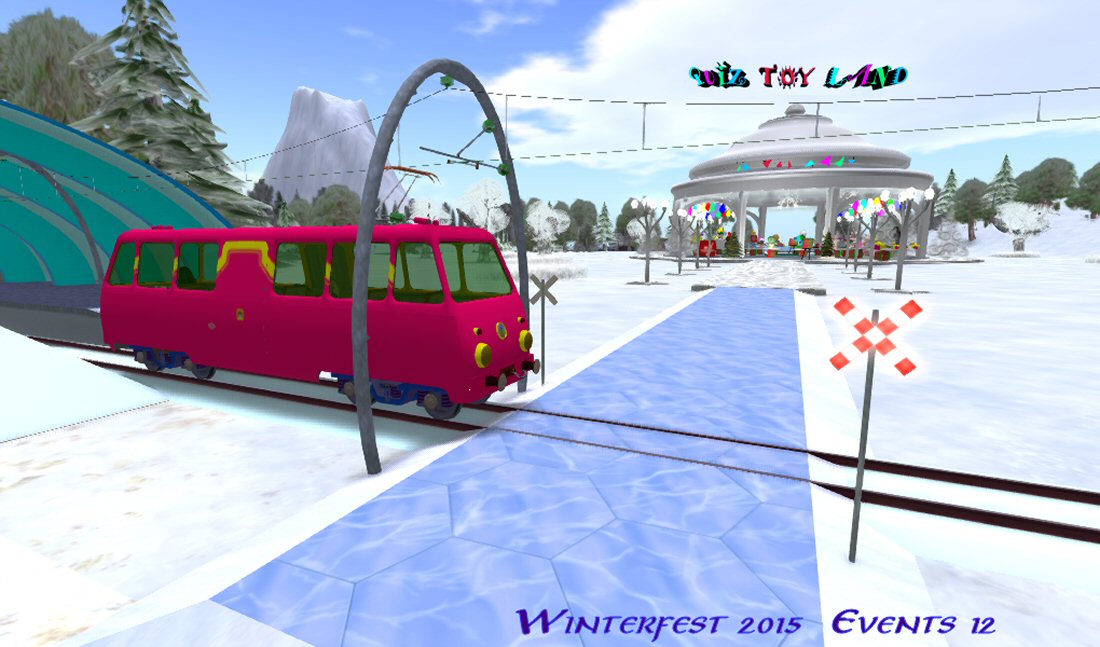 Inworldz Winter Gala 2015, Lötshberger railcar, metric track
Video: WinterInworldz Gala 2015, Lötshberger railcar, metric track
Video: Inworldz Winter Gala 2015, UrbanElf railcar, metric track